Local Restaurants
---
There are numerous restaurants in the towns and villages around the Mar Menor and this list is by no means exhaustive.
Some of them are on the list because they are amongst our favourites, whilst others are on the list because they have been recommended by others. Either way we accept no responsibility!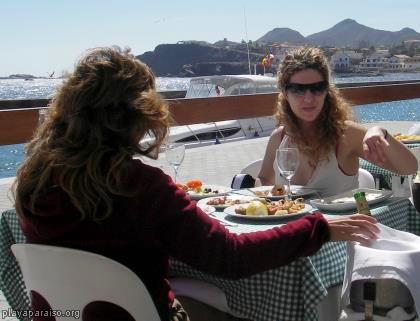 What time do you eat?
Good question.
Later in the summer than in the winter.
If it is warm enough to eat outside, then the Spanish will arrive for dinner some time after 9pm. A good trick at a busy restaurant is to arrive just before that. There's no problem in being much earlier, but the atmosphere just isn't the same.

In the winter a lot of restaurants will be closed so it is a good idea to check before you go - we have been caught out several times! If they are open they tend to be fairly quiet apart from at the weekends when the Spanish like to go out. People also eat quite a bit earlier.

Lunch is from about 1pm to 4pm.

What's good to eat?
In most restaurants the menus will be fairly familiar and most characteristically Spanish dishes are quite well known. In restaurants specialising in fish, the selection of fried fish is normally excellent and cheap.

And what shall we wear?
The Spanish tend to dress quite smartly. Smart casual (including your best jeans) seems to be acceptable in nearly all restaurants.

La cuenta por favor!
Can I have the bill please! Having served you in a friendly and efficient manner, that's their job done. Getting a bill and paying can be a challenge in some restaurants even if there is a queue waiting to grab your table.

Tipping
10-15%, normally. More if it was exceptional quality/value/service.
---