---
---
Campoverde 968 569050 Located between Los Belones and the neighbouring village of Los Nietos, Campoverde is very popular with the Spanish particularly for Sunday Lunch. Big, (canteen like?) bustling and usually very busy, it offers traditional Spanish dishes and is excellent value for money. Can lack atmosphere but at busy times is great for watching the Spanish relax.

---
El Pellizquito 968 137233 In the back streets of Los Belones near the church. Specialises in meat dishes particularly lamb. Very informal, but good food at reasonable prices.

---
La Fuente 968 137458 Located in the "Hermitage Centre", we are told that the english speaking staff provide an excellent service and that the food is beautifully presented.
---
Rierpi 968 137174 Located in the centre of Los Belones. Simple Spanish food at low prices. Good Spanish tapas at lunchtimes. Popular with local residents as well as expats. Closed on Mondays.

---
Run 968 137731 (also known as Cocina Asiatica) In the RA commercial centre (the new buildings at the La Manga Club end of Los Belones). Specialises in Asian Cuisine, including Chinese, Japanese and Vietnamese dishes. Varied menu, reasonable prices. Minimalist surroundings.

---
The Village 968 137260 A long established and popular restaurant. Under new mangement since sometime in 2007. Varied international menu with something for every taste including old favourites which have been on the menu for years.

---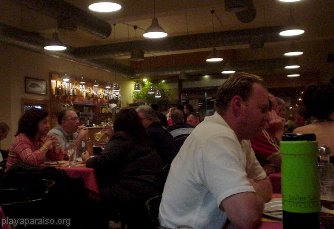 Via Romana 968 137373 A real favourite due to good quality food (mainly pizza and pasta), friendly and efficient staff and good prices. Would recommend that you book a table, as it is usually busy.
Closed on Tuesdays.

---