Walks around Calblanque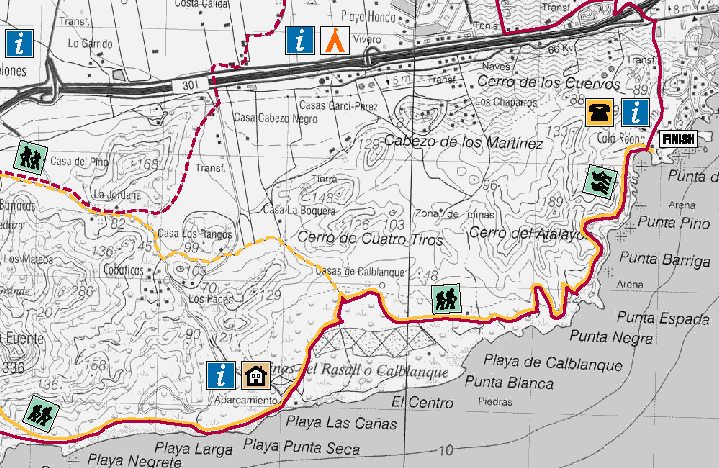 All the walks listed here are an hour or two long. For longer distance routes you will have to look for a more specialised web site or guide book.
---
Cala Reon to Calblanque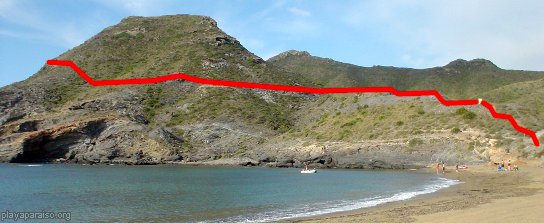 This path takes you along a rugged coastal path which rises and falls a considerable amount, with some steep slopes. There isn't an alternative route back, so you will have to turn around and go back the same way.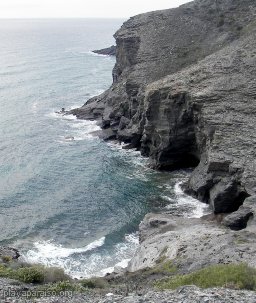 The path is shown on both the yellow and red routes on the above map and starts at the point marked 'finish'.
This bay is signposted as Cala Reon from the fly-over near Upper. It is small bay, very popular with fishermen. We once saw somebody land a 60Kg tuna there.

The path starts to the right of the car park and climbs steeply up the hillside.
It then weaves in and out of the headlands, until dropping back down to Playa de Calblanque. The path ahead always looks a lot more difficult than it actually is.

Along the way there are some spectacular views, very strange rock formations and occasional wildlife. This is an abandoned mining area. Anything dangerous will be fenced off, but take care.

---
Playa de Calblanque to Playa Larga


This section of the walk is not really that interesting. It's picturesque, but runs along a flat area between the hills and sea.
However if you take your time on a windswept day in the winter, there's an abundance of wildlife. The salinas are sadly neglected and the hides above them now seem pointless, apart from the shelter that they offer.
---
Playa Larga to Playa Negrete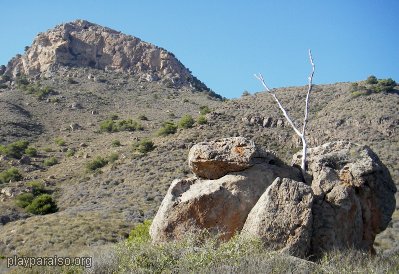 After a relatively flat section the path starts to cross a series of headlands which provide spectacular views of the beaches, but there are a few very steep sections here so take care.
Paths in this area go off in all directions, which are fun to explore; the main path can always be located again by following the painted rocks.

(As noted elsewhere, the beaches and sometimes the paths on this section are considered a nudist area.)

---
Please be careful when walking in Calblanque. It is not dangerous, but the going can be rough and invites minor accidents. It is an isolated area and you will not get a signal on your mobile phone if you should need help.
---
---
Home- Walks Index - Places to Visit Index - Full Site Index
(c)2007 C Edwards