Salinas de Marchamalo
Nature reserve in Playa Paraiso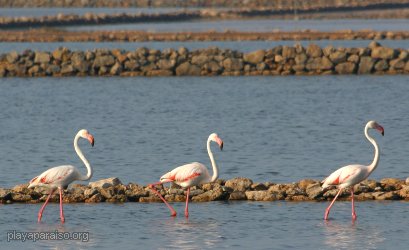 The Salinas are shallow artificial ponds, each one about the size of football pitch, which were used for the extraction of salt from sea water.
These days they are maintained as a nature reserve.
The aerial photograph of Playa Paraiso clearly shows the extentof the area they cover.

With its high salinity the Mar Menor was an ideal source of water and ultimately salt. There is still a dredged channel leading from the beach to a pump house. When in use, sea water was pumped into the salinas and then allowed to evaporate. This was repeated several times until a thick crust of salt was lleft behind, which was then dug out (harvested).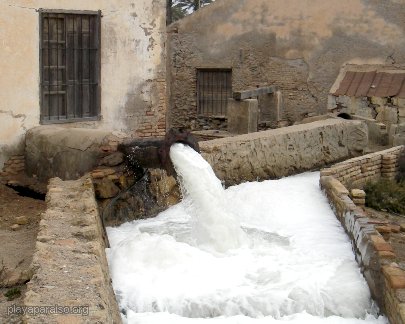 There are always dozens of species of birds to be seen in and around the salinas. The most spectacular are the Flamingos which are attracted by the thousands of fish and shrimp in the salty water. Other wildlife includes hares, snakes and lizards. I am hoping that somebody more knowledgable than myself will write a proper description of the wildlife in the area.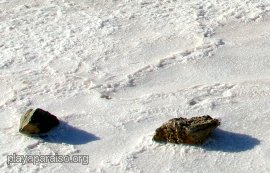 Last year there was some concern that the salinas were being allowed to fall into disrepair and dry out. However, the problem seems to have been that the feed channel became silted up. This has since been cleared and the pump now operates regularly to top up the salinas

Parts of the two salinas closest to Playa Paraiso can be seen on the Web Cam.

---
Salinas de San Pedro del Pinatar
At the northern end of the Mar Menor there is an extensive area of salinas that are still used for salt production:



I've been told that the frame below, from the current Michelin Tyre advertisment, was filmed here.
Is this correct?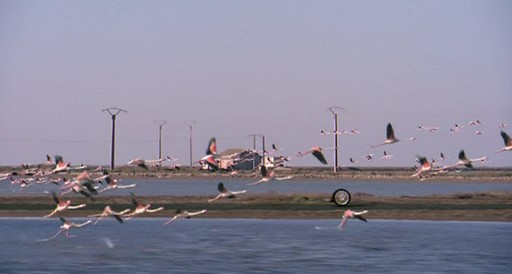 ---
Home - Places to Visit Index - Full Site Index
(c)2007 C Edwards