The harbour at Cartagena has always been important for trade and the navy and hence heavily fortified since Roman times. On high hilltops either side of the city are pairs of very impressive 381 mm guns (in the style of the 'Guns of Navarone') which were used to protect the approaches to Cartagena in more recent times.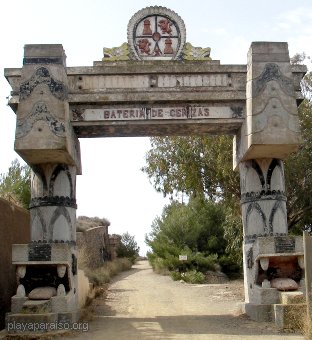 They date from the late 1920's and are well preserved, with sighting towers, magazines, barracks and a very impressive gateway. The guns are British built, by Vickers and Armstrong. The walk to reach them takes you through lovely countryside and there are some beautiful views when you reach the top.
The only access to the guns is by a footpath. It's wide, even under foot and shaded by trees, but it is a steady climb that takes about 40 minutes. On a weekend morning you will meet a lot of very fit looking people power walking along the track for their weekend workout. Also, watch out for mad cyclists on their way down.

The challenge is the time taken from touching the gate at the bottom, to a gun at the top. For a brisk walk 28 minutes is good.(My best 24m 50s)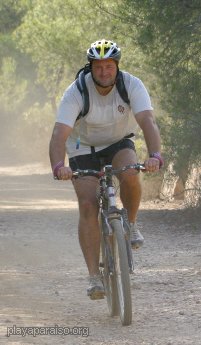 How to get there:
You take the exit from the MU-312 towards La Manga Club. After a couple of km you drive straight past the entrance to the Club, following the sign to Portman. This road becomes wider with a green cycle lane, going up hill. The access to the gun footpath is at the crest of this hill (on your left through a wooden gate). However, you can't park there.
Just before you reach the crest there is a small road off to your right signposted to Llano del Beal. (This road is great fun if you're in a hire car.) About 50m up this road there is a large parking area on your left.

Please note that there are no facilities or information available at this site.

There is an even more impressive battery on the other side of Cartagena at Mazzarrón, but it has all sorts of no entry signs and access is apparently via a very dangerous road.