Carrefour (general supermarket), Leroy Merlín (DIY), Toys'r'us, Decathlon (sports), Media Mart (electronics) and many other large shops as well as an an indoor mall.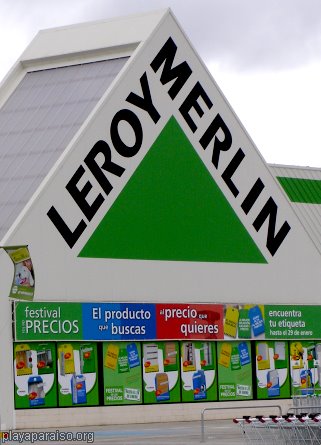 Located on the right about a kilometer before you get to Cartagena on the A-37 (you can't miss it), this is a huge retail park.
All of the main shops are about the size of a football pitch and are very modern and well stocked. The car park, around which the shops are located, is vast.

Carrefour is a mid-priced supermarket (similar to Sainsburys), but with extra sections selling electrical goods, home and garden wares, mobile phones, bicycles, hardware and much more! Their own brand foods tend to be of good quality and they probably offer the widest selection (under one roof) in the area.
However, they are very fussy about credit cards, so it is much easier to pay in cash or on a Spanish debit card.

Leroy Merlín has the largest range of DIY materials and equipment, that I've ever seen. However, the staff are not nearly as knowledgeable or helpful as those in the local ferreteria and it is probably more expensive. I always seem to end up visiting both.

Decathlon stocks a wide range of equipment for almost every sport. The prices will be particularly attractive to people who normally shop at La Manga Club.

Media Mart is Currys and PC World rolled into one, with the extra fun of trying to understand technical answers in Spanish.

Hungry? In the entrance to Carrefour is Wok. This is a Chinese buffet, that charges about 10€ for all you can eat. The selection is huge and includes a variety of salads as well as the more traditional Chinese foods. It is very well presented, fresh and generally of good quality.
There is a raw section, where you can select a plate of ingredients and take them to a counter, to be stir fried or grilled with a sauce of your choice. However, we much prefer to just work our way around the buffet.